Introducing IRAS API Roadmap 2.0
In line with the Smart Nation initiative to help SMEs stay relevant and competitive, the API Roadmap offers solution providers the opportunity to create new innovative products that digitalise operations and improve productivity. IRAS APIs can help build a rich eco-system of possibilities that can deliver a Seamless Tax Experience for taxpayers and tax agents. Building on the previous roadmap, new capabilities, enhancements and offerings are now available for software developers to build on and integrate with IRAS seamlessly through the use of APIs.
SUMMARY OF KEY UPDATES

API Roadmap 2.0
A refreshed API Roadmap that outlines what's new1 and upcoming, and key initiatives for Accounting & Taxation, Payroll & Income, Property and Service Enablers. More details on each API can be found on the API Products page
Future Collaboration
A new space for possibilities and collaboration of APIs that would significantly enhance the future state of integrated software.

Key Initiatives
To truly make accounting, tax and payroll software more competitive and relevant to meet expectations of taxpayers of tomorrow.

API Palettes
Put together the APIs that you need to help shape the desired solution fit for your business.
 

Important Announcement for Payroll Vendors

 

 

CorpPass authentication, which is built on the National Digital Identity framework, offers a more secured transmission of data to IRAS directly from your software.

Here are some timelines to note when planning your integration and release of your product with IRAS APIs and CorpPass.

 

 

Submission of Employment Income (CorpPass) API

To support Auto-Inclusion Scheme (AIS) of IR8A, Appendix 8A, Appendix 8B and IR8S submissions via payroll software,

come onboard with us early from April 2021 onwards in preparation for YA2022 filing!

 

 

 

 

Submission of Tax Clearance for Foreign Employees (IR21) (CorpPass) API

IRAS is currently piloting this initiative till June 2021 for the submission of tax clearance through Form IR21. Do reach out to us if you are interested.

 

 

 

 

Submission of Commission Income (CorpPass) API

Come onboard the latest release of our Submission of Commission Income API, now enabled with CorpPass authentication,

so that commission-paying organisations can easily submit commission data directly from/through their software.

 
Feedback From Our Partners
WE HEAR YOU!

We have been gathering feedback from our partners, and have heard your requests. Many of you want your partnership with IRAS to be visible to your customers so that they have greater confidence in adopting your software. Others have been asking to work more closely with IRAS in terms of technical support. IRAS is currently looking into how we can best meet your needs, so stay tuned for more announcements from us in the near future!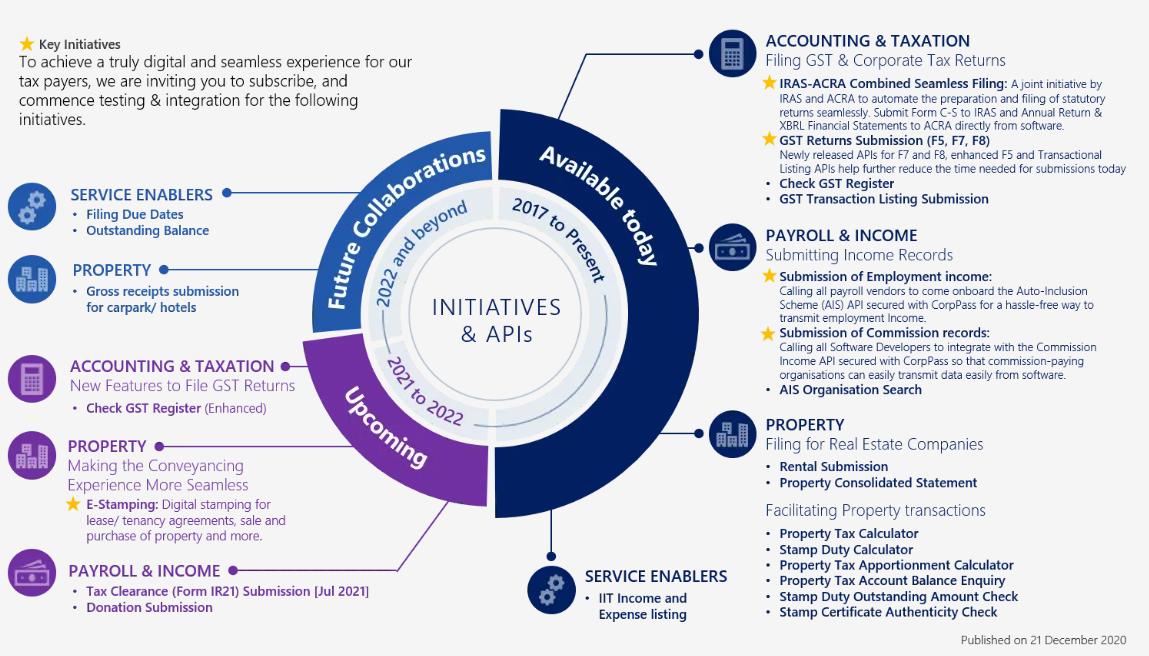 API Palettes
01 ACCOUNTING & TAXATION
An Overview of APIs relating to Accounting and Taxation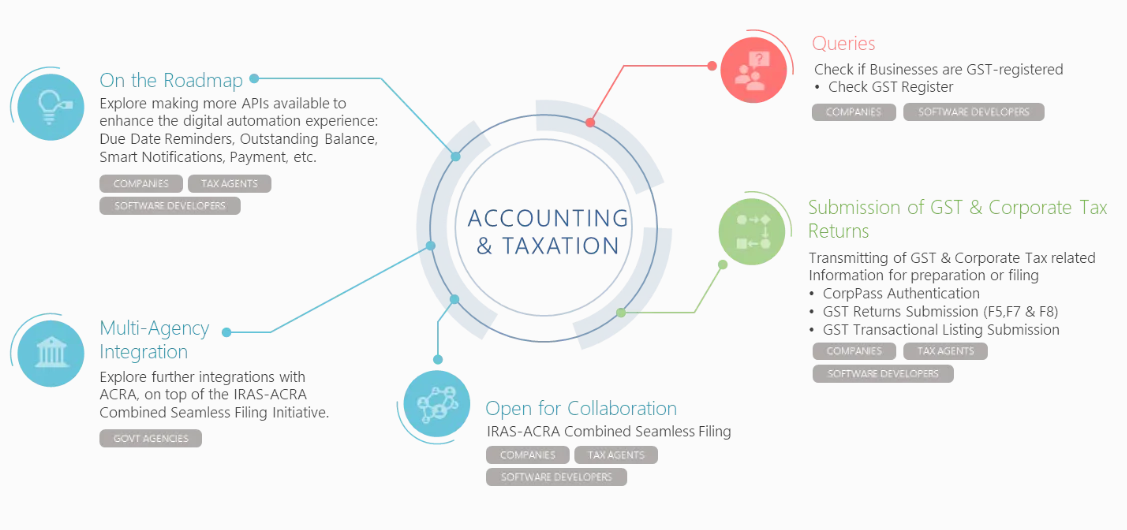 02 PAYROLL & INCOME
An Overview of APIs relating to Payroll and Income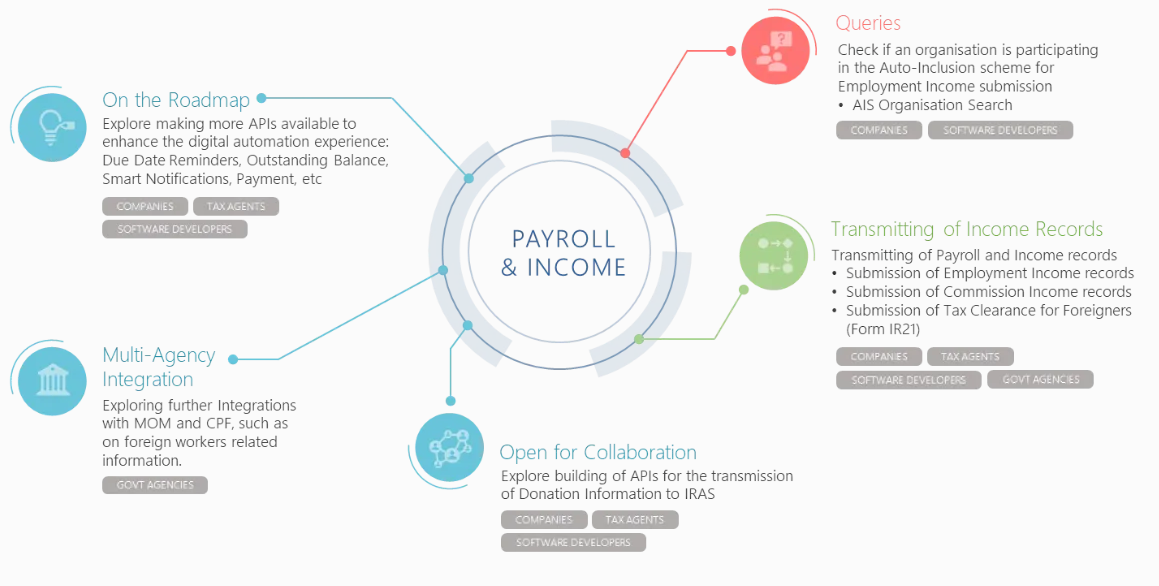 03 PROPERTY
An overview of APIs relating to Property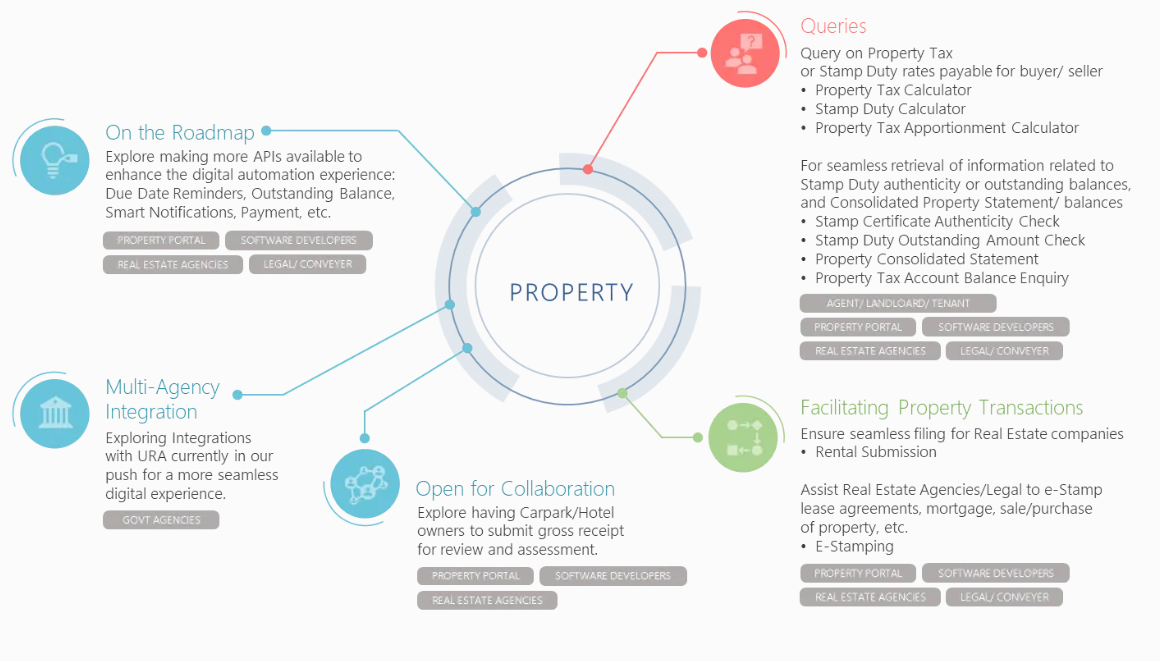 Connect with Us

 

 

Reach out to us early if you are interested to integrate or co-create with IRAS APIs that will help advance the Seamless Tax Experience of your software.

 

 

Future Collaboration

If you are interested to pilot any of the API topics under Future Collaboration APIs, please reach out to us. As a pilot partner, you will have early access to these features.

 

 

 

Key Initiatives

Based on the various key initiatives that we are actively driving for adoption today, reach out to us early and register your details to commence Sandbox development and testing.

 

 

 

Inspire us to create new APIs

We welcome ideas and suggestions for new APIs that will benefit your business and taxpayers. Share with us your use case and business proposals at digital_partnerships@iras.gov.sg.